If you ever browse Pinterest, then you will see the Gender Reveal Party ideas taking over people's baby boards. Some old fashion folks prefer the idea of waiting until the baby pop's out, but the latest generation trend is the Reveal Party/Shower. Henry and I have decided we would like to jump on this bandwagon, but don't know exactly which of the many fabulous ideas to use! That is why I have listed some of our favorite ideas. We need your help in voting, or suggesting alternatives, to help us decide how to reveal Baby J's gender to family and friends.
We find out the gender in just under 8 weeks, with the reveal shower to follow shortly after the doctor puts the gender in a sealed envelope where even we won't know until the shower.
This means we need to come up with an idea, so the shower planning and theme can begin!
Ideas:
1) Gender Reveal Scratch Off: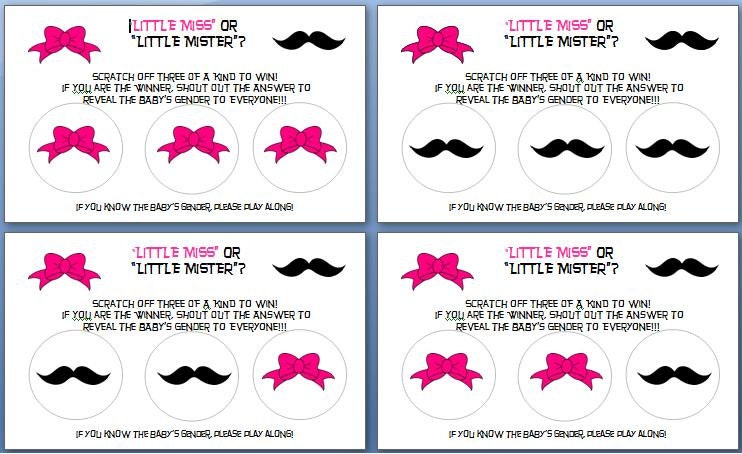 If we chose this idea everyone would receive a scratch off, but only ONE would have 3 bows or 3 mustaches (or feet or anchors or bees, whatever the theme may be). This way everyone gets to be involved. We can either buy them pre-made off Etsy, or use one of the many How-Tos that can be found online.
2) Fizzy Drink Gender Reveal:
The science nerd in me loves this idea!
Henry suggested as a way to prevent some party-pooper from spoiling the surprise before everyone is ready by being an eager beaver, was to get a pretty vase in the center of the room, fill it with water, and everyone toss the fizzy into the vase at once.
Wishing Well Style.
We could opt to give everyone a fizzy or a select few. Or hell, just Henry and I could drop one in together in the front of the room.
3) Box of Balloons Gender Reveal:
This is a pretty common reveal along with the cake/baked good reveal.
You take a decorated box, have the balloon place fill the box with the correct color, then release the balloons in front of family and friends. Simple and sweet! You could opt to do regular latex balloons, get different shaped balloons in the correct color, have streamers attached to the balloons, etc. All different ways to dress it up!
4) Confetti Balloon Gender Reveal:
This idea could get messy, but I love it! I do not know exactly how this couple had the confetti release, but this is what I have pictured in my head.
You get some pink balloons, some blue balloons, then two black balloons.
Have the balloon store fill the two nice sized black balloons with the correct color confetti.
When it is time to reveal, you each pop the two black balloons and down rains beautiful gender colored confetti! Partay!
5) Bubble Gum Gender Reveal:
For this one, the photographer was the only one who knew. Everyone closed their eyes, photographer placed the correct color gumball in the parents-to-be mouths, and then everyone opened their eyes.
My sister also had the idea of instead of revealing the gum-ball, you could blow a bubble.
Super Cute!
6) Cake/Cupcake/Cake Pop Gender Reveal:
This idea you could do one whole cake, where Henry and I would slice into the cake and the cake or filling would be pink or blue. You could do cupcakes, everyone bites into it to reveal pink or blue. You could do filled cupcakes, where the filling is pink or blue. Cake pops, cake balls, etc. Lots of yummy edible options here. This is also the most traditional way people have done it.
7) Party Popper Gender Reveal:
This is a new idea I haven't seen used yet.
Everyone gets a party popper filled with the correct color, count 1,2,3 and POP!
Out comes pink or blue!
Who doesn't know how a Pinata works?
Hang piñata in a tree, everyone takes a whack at it, colored candy/confetti/glitter, etc. falls out!
Gender revealed! Voila!