I have always been in pretty decent shape. However, lately I have been skinny, but fat skinny. There is such a thing! I mean, just because I am "skinny" does not mean in any way that I am healthy. This has caused me to have major self-image issues. I see pictures from a year ago, two years ago and then I see myself now and sigh. lol SO, instead of moping around & complaining about it, I am being pro-active!
My fiance and I bought fitness books last year -
Men's Health Big Book of Workouts
&
Women's Health Big Book of Workouts
- and this was the best thing ever! It gives a little intro about eating, then it breaks down each muscle group into a section with corresponding work-outs. Towards the back it has various work-outs already made for you - "Pre-natal workout" "Wedding Workout" "Crowded Gym Workout", etc. Each one has colored photos with numerous tips to ensure they are done correctly along with variations of each workout to either make it easier or harder. FABULOUS!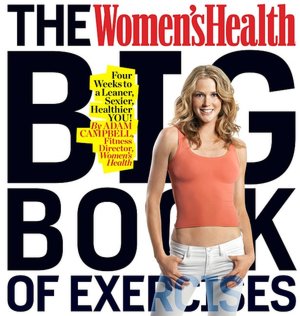 Cover of the book
Best work-out so far - "Beach Body Workout". I mean this one slightly kicked my butt, but pushing myself through these workouts gave me amazing results! I was ready to flaunt it in a bikini 24/7. Within 2 weeks I saw major definition changes.
Spring Break Post Beach Body Workout
With the wedding right around the corner now, I am needing that work-out again. However, I am lacking MAJOR motivation lately. Henry's cousin, Tacey, is a personal trainer at the local gym where we work out. So one fabulous day, Henry informs Tacey I need a personal trainer. Yesterday was day 1 - Oh my lord did she kick my butt! She isolated each muscle group and did a full body work out. Instead of my typical low weight, 12 reps, 3 set workouts I do, she did HEAVY weights, higher reps, 1 set for EACH muscle group - such as inner thigh, outer thigh, hamstrings, quad & calves, then lower back, upper back, abdominals & obliques, etc.
Local Gym where we work out! Dang refers to Dr. Dang - an Aggie Doctor who also just happens to be from my high-school as well. Crazy - same high-school, same college, same new small home-town.